Boyle was the son of Peter Boyle, Sr., a beloved Philadelphia TV personality who had a popular after school children's program that showed vintage Popeye cartoons, the Little Rascals and Three Stooges. Boyle was also a member of the Institute of the Brothers of the Christian Schools, a Catholic teaching order, and taught drama at their school in Pittsburgh before turning to acting. He was part of The Second City Chicago for a brief period of time, and he studied acting with famed acting coach Uta Hagen.
Boyle's first screen appearance was in the little known film: "Medium Cool" in 1969.
His first starring role was as the title character in the 1970 movie Joe, in which Boyle played a hardhat bigot to wide acclaim. The film's release was surrounded by controversy over its violence and language. It was also a commercial flop but a critical success for Boyle. Critics praised his first leading role. It was during this time that Boyle became close friends with the actress Jane Fonda, and with her he participated in many protests against the Vietnam War.
After the release of "Joe", Boyle refused the lead role in The French Connection as well as other movie and TV roles that, he believed, glamorized violence.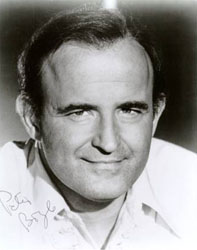 Boyle then moved on to "The Candidate" starring Robert Redford, playing Lucas alongside an all star cast. The film is probably one of the best political films ever made, and Boyle's tough, no nonsense performance shows the kind of steady, un affected film acting that would become his trademark.
Boyle again dove into an all star ensemble cast for the mediocre "Steel Yard Blues." Although the film missed now and then, Boyle, clearly in his element surrounded by Donald Sutherland, Melvyn Douglas and Brad Davis, loved the idea of ensemble acting. His ability to take small moments on screen and fill them is unparalleled.
"I work well in a group. And I admire funny people. Being funny is harder than anything I know."
In 1973, Boyle again surrounded by top notch comic actors, made the uneven "Slither" along with James Caan, Sally Kellerman, and the underrated Louise Lasser. The film itself tends to wander a bit in a quest for money, but at the heart, is a nuanced and interesting performance by Peter, who plays a down and out thief whose only purpose in joining the gang is to pay his rent and go out to an occasional nice dinner. A sentimental and interesting film.
After a few more comedies, including "The Friends of Eddie Coyle", and a terrific made for television movie: "The Man Who Could Talk to Kids", the Big Beast dropped into his lap.
Gene Wilder and Mel Brooks were looking to do a film version of Jeckle and Hyde. The scripts were coming, but they weren't funny, or they laced a central motivation. When Brooks was interested, Wilder wasn't, and when Wilder was interested, Brooks wasn't.
Finally, they settled on revisiting Brook's old movie favorite Mary Shelly's "Frankenstein", and a film Wilder also held great affection for. With team writing, and a long battle over rights and residuals, Young Frankenstein was born.
Now, arguably, one of the greatest comedies ever put on screen, it was everything Boyle loved, and everything he excelled at. It was a tram effort, it had an immaculate script, and yet, at its core, it was true to the original horror film. It had a miraculous sensibility rarely seen in comedies. It also boasted one of the finest comedy ensembles in film history: Wilder, Cloris Leachman, Marty Feldman, Terry Garr, and of course, the brilliant and sorely missed Madeline Kahn.
It was during filming when Boyle met his now wife of 30 years and asked her out on their first date. Peter was dressed as The Monster when she said yes. They stayed married until his untimely death.
Boyle's performance is magnificent. Although over looked at awards time, consider his ubiquitous scene with Gene Hackman as The Blind Man, when Boyle's finger goes suddenly aflame. And the of course, there's the side splitting Putting on the Ritz number with Peter in black and tails. The nonsensical version of the line
"Putting on the Ritz" where Boyle squeals
like a sick howler monkey was Peter's idea.
Boyle gave an acclaimed dramatic performance in the 1977 television film Tail Gunner Joe, in which he played Senator Joseph McCarthy, who led the Communist witch hunts in the 1950s.
Boyle was known for his supporting roles and was more often cast as a character actor rather than a leading man. He went on to a wonderful appearance in Martin Scorsese's Taxi Driver opposite Robert De Niro, in which he played fellow cab driver "Wizard".
He co-starred in Where the Buffalo Roam, portraying the attorney of gonzo journalist Hunter S. Thompson (played by Bill Murray). He later played Bosun Moon in the pirate comedy Yellowbeard, also starring Cheech and Chong, Madeline Kahn, and members of the comedy troupe Monty Python's Flying Circus.
Subsequent films included The Dream Team starring Michael Keaton, The Shadow starring Alec Baldwin.
Then, in the critically hailed Indie that gave Halle Berry a curious Oscar, Boyle turned in an eerie and yet understated performance as Billy Bob Thorton's racist and violent father in "Monster's Ball." Again, ignored by the awards ceremonies, Boyle is, in a small part, huge and commanding.
In 1990, Boyle suffered a stroke that rendered him speechless for six months. After recovering, he was finally honored by the Academy with an Emmy award in 1996 for an Outstanding Guest Actor in a Drama Series for his appearance on The X-Files. In the episode, "Clyde Bruckman's Final Repose", he played an insurance salesman who can see selected things in the near future, particularly others' deaths.
Boyle was perhaps most widely known for his role as the deadpan, cranky Frank Barone in the popular CBS television sitcom Everybody Loves Raymond, which aired from 1996 through 2005. He was repeatedly nominated for an Emmy (6 years in total) for this role, but never won (beaten out multiple times in the Supporting Actor category by his costar Brad Garrett), though fellow co-stars Garrett, Ray Romano, Patricia Heaton, and Boyle's TV wife Doris Roberts won at least one Emmy each for their performances. Although I only watched the show on occasion, I would stay glued for the antics of Roberts and Boyle. The two of them are party of the great supporting husband and wife teams on television. There's the Norton's, The Mertz's, and the Romano's. Seeing two pros attack comedy with such ferocious and voracity was worth sitting through what I usually considered a mediocre comedy at best.
I stopped watching altogether after Patricia Heaton's politics made it impossible for me to look at her without wanting to throw a shoe at her nose job.
In 1999, he had a heart attack on the set. Peter being Peter, and never wanting the show to suffer or for actors to have to stand in line waiting and reshooting, he soon regained his health and returned to the series within weeks of his operation.
"I don't think I would be an actor if I was all that intelligent."
TRIVIA
In the 1970s, when he hosted Saturday Night Live, Boyle had the opportunity to demonstrate his singing voice on screen.
Boyle was friendly with John Lennon, who was the best man at Boyle's 1977 wedding to Lorraine Alterman, with whom he has two daughters, Lucy and Amy. Boyle met Lennon through his wife, a reporter for Rolling Stone who was friends with Yoko Ono. [2]
Starting in late 2005, Boyle and former TV wife Doris Roberts appeared in several TV ads for the 75th anniversary of Alka-Seltzer, reprising the famous line, "I can't believe I ate that whole thing!"
Before deciding to pursue a career in acting, he was a monk in the Christian Brothers order.
Suffered a stroke in 1990 and couldn't talk for 6 months.
Father hosted a popular children's lunchtime cartoon show in Philadelphia in the 1950s titled "Lunch with Uncle Pete."
John Lennon was best man at his wedding to his wife Loraine.
Commuted between Los Angeles, California, and his home in New York City for the filming of "Everybody Loves Raymond" .
1957 graduate of La Salle University in Philadelphia, Pennsylvania.
Was the only member of the ensemble cast of "Everybody Loves Raymond" who didn't win an Emmy award for acting in a comedy series.
Boyle was one of those great actors that people usually refer to as What's His Face. It seemed to be all right with him, as he never struck me as a guy in need of fame and recognition. He was innately hilarious and quietly commanding. He was one of the few supporting character actors that worked on everything from Off Broadway, to improvisation to Oscar winning movies. And with the last 10 years of his life spent in a hit TV show, he certainly fulfilled his dream of becoming a working actor.
Whenever I feel like needing something happy, or whenever I've heard an actor say they've seen a movie they think is funny, I drag them to my house and pop in "Young Frankenstein". If nothing else, and Boyle has much to be praised for, he left us with one of the funniest movies ever put on film.
His wife and his children always seemed to come first, and luckily, his legend will last for generations. This was a generous actor. He knew what it was all about. And luckily, he left it for us to relive. Anytime we want.